Tag games are a great way to get everyone moving and with modifications, the opportunity for fun is never ending.

Classic games and exercises are often just that for a reason. Tag is not a only fun way to get your little athletes moving, it is an opportunity to remind them how easy it is to have fun AND get active – no equipment required.
Make tag a part of your warm up
Everyone remembers playing tag for one reason: because it was fun! But for coaches and instructors it can also be a very functional part of your program.
Inviting children to play tag as a warm-up will get their muscles warm and their blood pumping. It will also give them an opportunity to expel the chaotic, built-up energy they arrived with. Let them make noise, wave their arms, add obstacles for them to move in and around. When the game is done, you will have a group of happy, out-of-breath children who are ready to focus and listen to what you are saying to them. Their bodies are warmed and their minds are sharp, and they are ready to start listening and learning.
Make tag a team sport
"You're it!" That's what tag is about right? Running as fast as you can not to be singled out, to stay the chasee and not the chaser. You're playing in a group but it's every child for themselves!
But Tag doesn't always have to be that way.
Try introducing your children to Blog Tag. In this version of the game, everyone who is ever "it" joins hands and becomes a long chain, working as a team, to catch other players.Make it a multiple-team or partner game.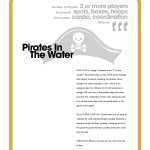 Pirates in the Water introduces two "its" to the game, as does the Great Wall of China variation.
Why not have your kids try Flag Tag, where everyone is it.
Change the game by adding equipment
Sure, the beauty of tag is that all you need is the room to play. But adding equipment can make the game different and keep children interested.
Use items you already have in your gym to change the landscape – create levels, places to hide and additional obstacles.
You can create safe but active zones. In these, a child runs in but has to perform a specific activity or set of activities to stay safe and to gain access back to the field of play.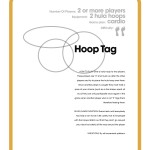 Hoop tag introduces hula hoops – another classic of summer fun – into the game.
The key with making tag a part of your lesson plan or summer camp is to keep it fun and interesting, and anything you can do to take the emphasis off winning and losing and put it back on being a good sport is good thing.
While we often think of tag as an summer game, with enough room, it is a great way to get everyone's energy and excitement up all year round  – indoors or out.
For information and instructions on other fun physical games for preschoolers and older children please check out our Games and Activities page. 
From Darlene "The Bean"
Share and Enjoy